C
reative
&
P
erforming
A
rts
The History of the American Ballet Theatre
by
Janet P. Caldwell
American Ballet Theatre (ABT) is a classical ballet company based in New York City. It has an annual eight-week season at the Metropolitan Opera House (Lincoln Center) in the spring and a shorter season at the David H. Koch Theater in the fall; the company tours around the world the rest of the year. ABT was founded in 1937 by Lucia Chase and Mikhail Mordkin and is recognized as one of the world's leading classical ballet companies. ABT is also the parent company of the American Ballet Theatre Jacqueline Kennedy Onassis School, and was recognized as "America's National Ballet Company" in 2006 by the United States Congress.
History:

Mikhail Mordkin, a former dancer with the Bolshoi Ballet, left Russia after the October Revolution and settled in the United States in 1924. He staged the country's first production of Swan Lake in 1924, then later formed the "Mordkin Ballet" in 1937 with students from his New York school, with Lucia Chase, his student, as one of his prima ballerinas. By 1939, former Hollywood agent, Richard Pleasant, came to New York to manage the company. By the summer of 1939, Pleasant and Chase developed big ideas to turn the company into a full-fledged ballet company, and to base it on "a gallery of dance rather than the vision of a single choreographer" and a "living museum of dance" with Russian, American and British "wings", and units for black and Hispanic dances. The pair renamed the company "Ballet Theatre" and Mordkin later departed, finding himself solely in the background.
Chase began developing the company's repertoire of well-known full-length ballets, as well as original works, amidst financial issues, until in 1945 Oliver Smith joined Ballet Theatre and became co-director with Chase. In 1957 the company changed its name to "American Ballet Theatre" and continued to focus on ballet classics with continued financial issues until, during the 1960s and 1970s, financial conditions with the company were favorable due to private funding. During this period, American Ballet Theatre shifted its focus to recruiting ballet stars.
In 1977, the company began its spring season at the Metropolitan Opera House, its new official venue, then in 1980 Mikhail Baryshnikov became Artistic Director for American Ballet Theatre. Baryshnikov staged, restaged, and refurbished numerous classical ballets and, according to the company, strengthened their classical tradition. Baryshnikov was replaced by Jane Hermann and Oliver Smith in 1989, and the pair remained as Artistic Directors until in 1992 Kevin McKenzie was appointed. McKenzie satisfied the demands of the traditional ballet audience by prioritizing full-length narrative ballets as well as succeeding in keeping the company afloat during financially unstable times. He established an official associate school in 2004, the American Ballet Theatre Jacqueline Kennedy Onassis School, and appointed Alexei Ratmansky as "Artist in Residence" in January 2009 after a long period of no in-house choreographer.
I have always held an interest in Ballet and all forms of dance. There is a communication between the dancers themselves but it also mists deliciously across the stage and into the audience. The delicacy, strength, earthiness, ethereal-ness and sensuality that exude from this art, leaves me breathless.
Recently I watched American Masters on PBS and could not take my eyes from the screen. I'd like to share that experience with you as Ric Burns' documents the 75-year history of the preeminent ballet company that combines rehearsal footage, virtuoso performances and interviews with ABT's key figures including Alicia Alonso and the late Donald Saddler and Frederic Franklin; Susan Jaffe and Julie Kent, Misty Copeland, Gillian Murphy, Marcelo Gomez, Hee Seo, choreographer Alexei Ratmansky and Artistic Director Kevin McKenzie. I have also included Swan Lake and the powerful dancers, Nicolas Besnard and Ludivine Furnon and a snippet of The Nutcracker featuring Misty Copeland for your enjoyment.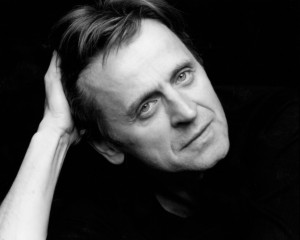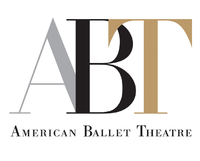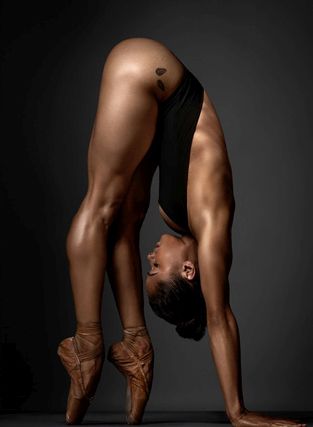 American Ballet Theatre
A History
The Nutcracker- featuring Misty Copeland
Nicolas Besnard & Ludivine Furnon Dance
Tchaikovsky: Swan Lake - The Kirov Ballet
An Early Influence
The Artwork of Egon Schiele
"To hinder an artist is to murder burgeoning life."
~ Egon Schiele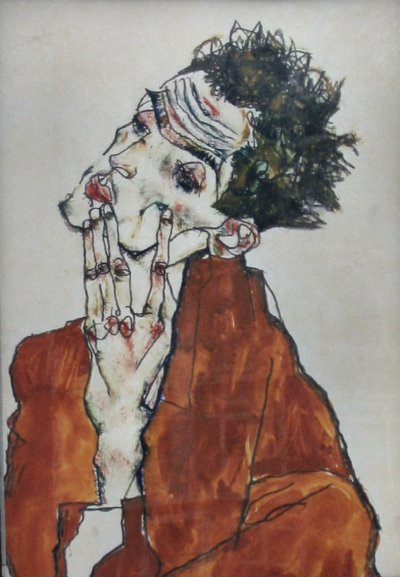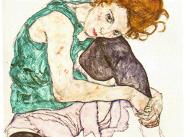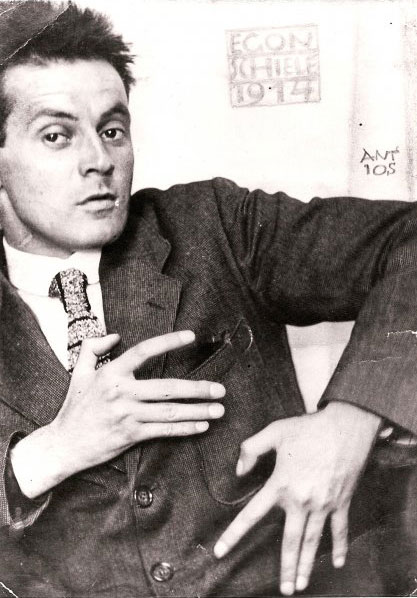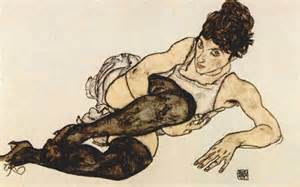 Egon Schiele
Self Portarit
1914

As a young teenager, I was graced to visit one of the largest exhibitions of the artwork of Egon Schiele. He was an Austrian painter who worked primarily in the early 1900s and his works were banned by the Nazis during the 1930s.
Schiele primarily painted people, self-portraits and nudes of both male and female models. His wife, Edith, was his primary model. He studied under the painter Gustav Klimt for some time. There is a similarity in their use of undulating line, however, Schiele's works tended to be more erotic and suggestive in nature while some even called his work pornographic.
Egon Schiele died on October 31, 1918, three days after his wife who was 6 months pregnant at the time, both from the Spqnish Flu. He was only 28 years old.
Having had the luxury of viewing a substantial number of his works in Washington, D.C. at the age of fifteen was a mile marker for me as a wanton artist to be. The works, many of which had not been seen since they were banned earlier in the 20th century, were captivating. He was known as an Expressionist and indeed his art expresses so much in body language and facial expressions. I will always remember that exhibition as having been a great influence on my interest in the visual arts for years to come.
It is truly a great loss that he and his wife died at such a young age. His portfolio included hundreds of paintings. Who knows what other masterpieces he may have produced had he lived a longer life. Though, what we are now able to see of his works mark the work of a truly gifted painter.
Rachel Brown Good
of
For a Dancer, Inc.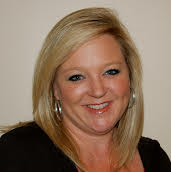 Rachel Brown Good is a dance instructor at For a Dancer, Inc. This dance studio is located in Bealeton, Virginia which is located outside of Washington, D.C. in the rural landscape of the Virginia countryside.
Here, she teaches dance and promotes self esteem amongst her students. The studio has been in operation for 17 years in the rural, Fauquier County, Virginia setting.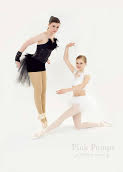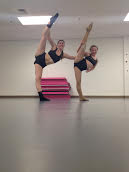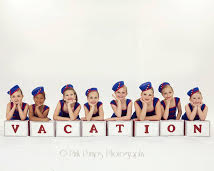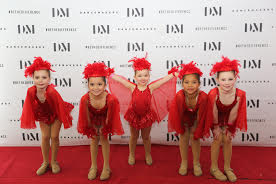 Inner Child Magazine : What is your position at For a Dancer, Inc.? How long have you been teaching there?
Rachel Brown Good : Owner. I opened 17 years ago.
Inner Child Magazine : Please explain your teaching philosophy for dance.
Rachel Brown Good : Every child should be able to experience the art of dance. Dance class for most children is a fun, recreational sport. In our studio, we promote positive self esteem, team sportsmanship and a loving, trusting atmosphere for our students to learn the techniques and art of dance. It makes no difference if the child is a beginner or advanced team dancer, we are teaching these kids to have the confidence to use in their future years. We hope to create successful young people who have the confidence to tackle anything in life from college to job interviews. We also want the children to develop a trust with our students and instructors so that if they have a problem or life crisis, there will be someone to help them through. Technique is a must at my studio. We strongly emphasize technique in every class.
Inner Child Magazine : What is your educational background and training in dance?
Rachel Brown Good : I have a degree from PSC of West Virginia University in Elementary Education and a Bachelor of Arts (BA) from Mary Washington College in Performing and Liberal Arts. I have danced for 40 years and have taught dance at other studios From London to Burke, Virginia and took classes up and down the East Coast at conventions and competitions as well as Master classes.
Inner Child Magazine : What levels and types of dance do you offer?
Rachel Brown Good : We offer Beginner through Advanced classes in Ballet, Tap, Jazz, Hip-Hop, Contemporary, Tumbling, Lyrical and Pointe.
Inner Child Magazine : Can you please explain your students participation in competitions?
Rachel Brown Good : We have a team made up of dancers ages 3-18. These children have been hand selected to participate on our team. We invite them to a week long summer camp where they learn all new choreography for the upcoming season. The team rehearses on Tuesdays and Saturdays to prepare for competitions and performances. We have the mini's ages 3-8, Juniors ages 8-11 and Seniors ages 11-18. The dancers attend local, regional and National competitions where they compete against other studios from around the area and the country in all techniques of dance (Jazz, Tap, Ballet, Contemporary and Lyrical).
Inner Child Magazine : When is your next performance or competition and what does it entail?
Rachel Brown Good : Our next competition will be for 2 of our soloists at the end of March 2015. They will compete locally for a title to ensure a spot at the National competition in June, located in Myrtle Beach. The entire team will compete again locally in May at a Regional event. We hope to perform for the 17th year at Warrenton, Virginia's Spring Festival in May and will have our annual recital on June 6th that the entire studio will participate in. The classes at the studio have been working since December on choreography for the year end recital.
Inner Child Magazine : How may we find out more information about you and For a Dancer, Inc.?
Rachel Brown Good : www.foradancerinc.com
Inner Child Magazine : Thank you so much for your participation. May the dance live on!
Interview with Visual, Fiber Artist
Tamara Lee Little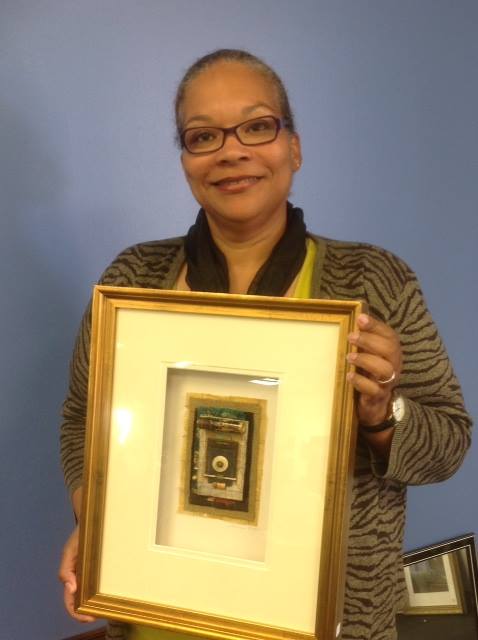 I was so thankful in 2009 to meet Tamara Little by chance on a jaunt to Williamsburg, Virginia. She was then participating in an Arts and Music Festival where I was able to see her visual art first hand and speak with her about her work. Thanks to social media, I have recently been able to reestablish contact with this talented Artist. Below, are her responses to the questions I asked her in a recent online interview.
Inner Child Magazine : Please describe the techniques and mediums with which you make your art.
Tamara Lee Little : For the most part my work consists of some type of fiber. whether its hand made paper, wild grass, reed, bamboo or fabric. I also like to incorporate rustic beads, metal, and old coins. In this collage, entitled Mother's Influence, I've layered handmade paper, added a photo. I often use sandpaper to smooth out different materials to give the piece texture and I add watered down paint to give my work an aged look. I also use different types of gel mediums, glues, wood stains, and paint to enhance my work.
ICM: Can you please explain your training and background in the Visual Arts?
TLL: My background in arts started with my mother who has formal training. She went to art school in New York and Chicago at a time when black women didn't have as many opportunities. Reflecting back on some of the workshops that we took together and things that she taught me fostered my love for design, textile assemblage work, and painting. My mother started the flame, but I ran with it and found my own way. I started out as a jewelry designer and a dream of mine was to always learn to set stones and have more control of my design. Two years ago I was able to take three eight week classes at the Visual Arts Center in Richmond, Virginia and I am now a metal smith. I'm also a studio artist in Historic Hilton Village of Newport News. You can view my website listed below for more info.
ICM: Do you have any major influences when making your art? How about other artists that may have influenced you and your work with an explanation as to how?
TLL: My major influences are African, Native American, Asian artifacts, Architecture, and Interior Design. Also, through exploring how these cultures create art and use natural materials has led me to use wild grass and bamboo and much more.
An artist that has influenced me is Joyce Scott, a three dimensional bead artist., who forges ahead, stays relevant, and is making a living doing something she loves.
ICM: Is there any specific advice you would give to aspiring artists?
TLL: Stay true to who you are, always try to improve your skills. Be a good listener, keep what you need and disregard what you don't.
ICM: Please let us know where your work is available, for example websites and venues where your works are available for view and/or sale.
TLL: My work is on exhibit right now at the Peninsula Fine Arts Center, 101 Museum Dr., Newport News, Virginia until mid March. You can also view my work on my website at leelittleco.wix.com/leelittecollection
ICM: As March is National Women's History Month, do you have any particular feelings or advice regarding being a female artist?
TLL: Continue to do what you love, even if its just for you.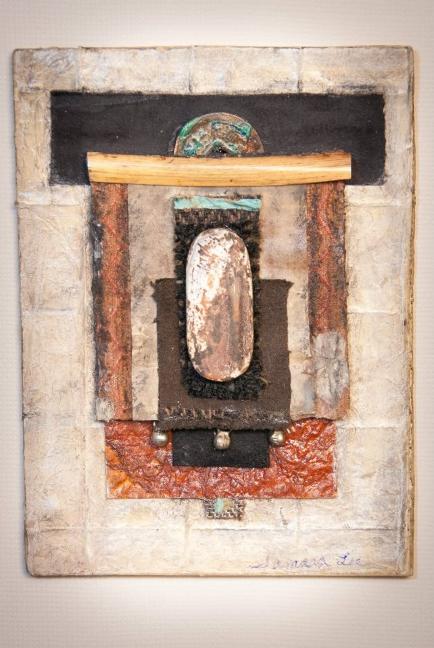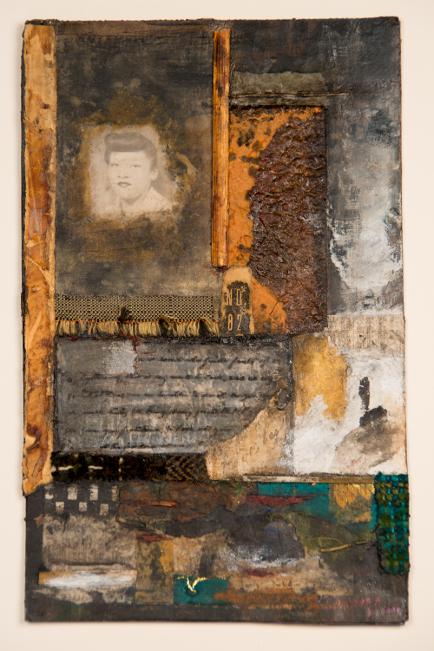 The Urban Individualists Group is the brainchild of Helene Ruiz. In February 2014, she and a handful of other artists opened their gallery in the Artworks Building, 320 Hull Street, Richmond, Virginia, Room 140. This January 2015, they moved to Room 201, upstairs in the same building. They strive to offer a variety of original artworks, poetry readings and are planning to expand into educational and community outreach programs.
The Members of The Urban Individualists Gallery in Richmond, Virginia answer the question
:
What does creating art mean to you?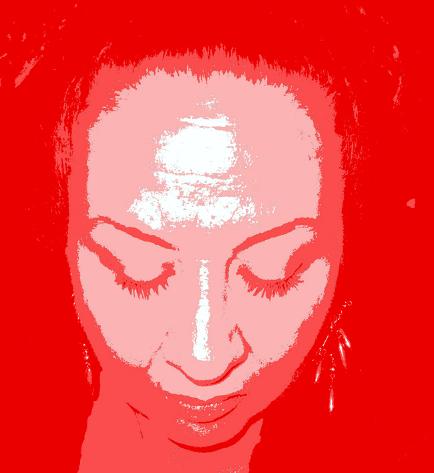 Helene Ruiz
What creating art means to me is an opportunity to provide a visual means of story telling, a documentation of life, an era...historically, politically, environmentally and personally .... I can just go on and on ..... My passion and love of the ability to create art is my medication, my heart, my soul, my blood...a means of documenting my own life as well as those around me and my surroundings. My love of surrealism and the ability to take reality and "juxtaposition" it freely and without restrictions, taking the expected and turning it into the unexpected and vice-versa is what I feel "frees" me most. http://redbubble.com/people/heleneruiz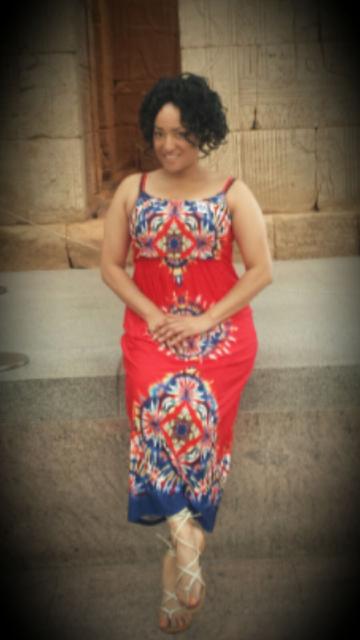 Ashira Benitez
It allows me to take a journey to a peaceful yet sometimes frustrating world. It is my mind's own personal virtual reality. Art is powerful in how it shields me from boredom, as it reverses despair, and it, allows me to replicate an experience, by sketching wondrous things that; I've seen in my life, and it stretches my imagination, or it allows a marriage of man with machine, while taking photographs or short videos where, I can play the director, who's telling a story. The beauty of this craft is that, I can generate something that is from a perspective of my own thoughts; like visual poetry, being able to delicately say, so much without saying a word, amazingly making silence sound, yet still allowing someone else, "their own" perspective.

Chris Ludke
It's my work. It's my play. It's my challenge. It's my reward. It's not a money maker. I'll tell you a little about my personal experience. I like to do all kinds of art but now I'm focusing on drawing and painting in plein air which means I work outside in natural light. I don't use a camera because my drawing skill won't improve if I trace a photo. I go back to the same place at the same time of day again and again and work for 2 or 3 hours at a time so the light and shadows will be the same and my concentration will always be fresh. I take my time. People like to see my progress. They think it's coming out even when I'm struggling with it. Sometimes people ask me questions. I like talking to people but the question I don't understand is "Why are you doing this?" I might answer, "This is what the voice in my head told me to do." and get a laugh. Then they ask me if I'm taking a class and I say, "No, I work alone." Another question I don't understand is, "what else do you do?" I just answer, "Not much." Maybe they think I should have a regular job because art doesn't pay the bills. That's an annoying thought when I'm trying to work but, oh well. You can't be too sensitive if you want to be an artist. Drawing and painting in plein air is one of the best things I ever did for myself and I'd recommend it to all artists.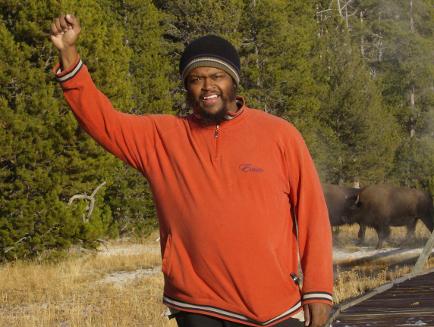 David Freeman
Creating Art for me means a way of visual expression whether its personal or non- personal I can convey a particular subject or interest matter that can arouse a thought or message that I'm either exploring or trying to express at that moment. But creating art does not always have to be confine to just generate such grown-up and intellectual ambitions it can also become a very simple and enjoyable thing to participate in so I try to incorporate both of these ideas in art in my attempt to share this way of expression to the world.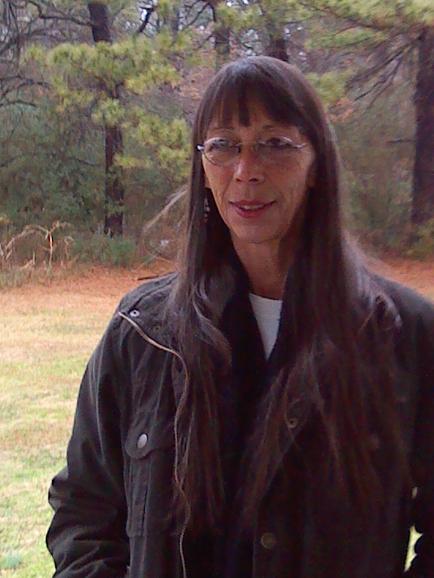 Sharri Bangoy
Art is a way of expressing our emotions or wants of our heart and spirit into a solid form to connect with all. With my dolls, I'm able to express unity with all women, in support of strengthening the heart of humankind. Safe travels and journey's.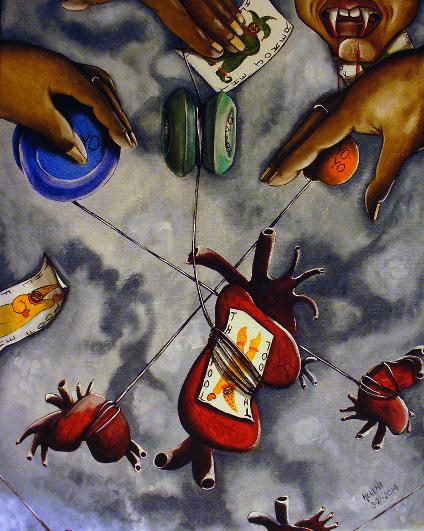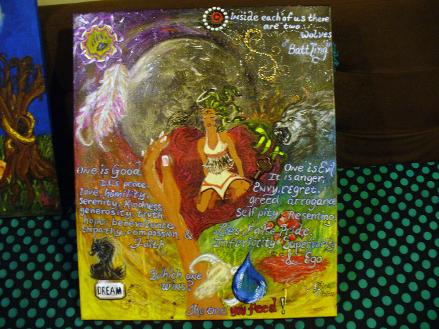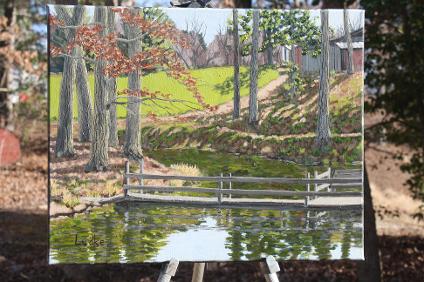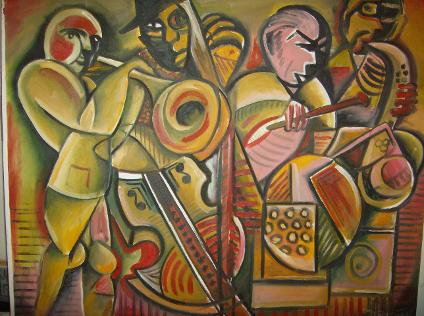 an interview with . . .
Kathleen Gallagher
Professor, Artist and Poet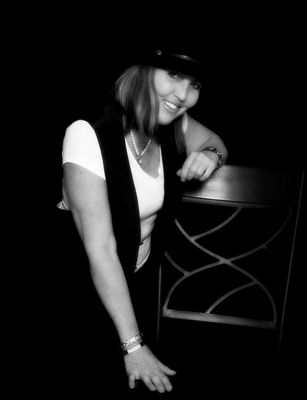 Kathleen D. Gallagher, A.A.S., B.A. Ed., M.A.
Senior Lecturer of English/Literature
Wayne College - University of Akron
Associate Lecturer of English at Ohio State ATI
Freelance Writer, Editor, ESL Tutor
Gallagher was a finalist in the First Grand Tournament event through Writing Knights Press which resulted in her first poetry chapbook I See Things are Falling. She was nominated for a Pushcart prize in December 2012 through Writing Knights Press, Cleveland. An award winning non-fiction writer, poet, and artist, Gallagher has won two Writer's Digest awards for nonfiction (2007Writer's Digest Honorable Mention for a feature article entitled "Cutting Storm," and a 2011 Honorable Mention for her essay "Flying Objects" in the 2011 Writer's Digest competition. Her poetry includes works in journals such as South Coast Poetry Journal : Issue #15 (Honorable Mention for "Focal Point" judged by writer/poet/screenplay James Dickey of the movie Deliverance fame) and her current Pushcart nomination. A self-taught collage artist, her work "Somewhere," won honorable mention in the 2001 National Collage Society's Postcard Contest, "Wishing You Were Here." A collage entitled "Bone Collage," is posted in the September 2011 Hospital Drive: The Literature and Humanities Journal of the University of Virginia School of Medicine. Her collage "One Woman," is now a cover for Pushcart nominee writer Michelle Reale's book If All They Had Were Their Bodies," published by Burning River Press, November 2011. She is a former NEOMFA creative writing student at Kent State University. In her spare time she goes on hikes and finds pieces of bark when she is not dismantling old computers for art parts.
Before we begin the interview, please let me take this moment to express my sincerest gratitude towards you, Kathleen, for your uncompromising kindness and hospitality when you were the hostess at your home for me in June of 2014. At that time, I traveled to Ohio for the release of the second edition, full length, full color rendition of my first book of poetry and art, In the Beginning and the End, from Writing Knights Press out of Cleveland, Ohio. Thank you so much, Kathleen, the poetry readings in Cleveland and Canton were quite amazing as were our unending conversations.

Inner Child Magazine (ICM) : I understand you have become a very active and prolific artist. Could you please tell us how, having been a Creative Writer first, you came to explore the Visual Art medium?
Kathleen Gallagher (KG) : First, let me thank you for coming to Ohio to visit us. We truly enjoyed your readings and hope that you'll come back soon to see us again. Now to answer your question: The last year of my life at Barberton Gallery of Fine Art has been a wonderfully enriching period for me, and I have had the honor of being featured two times as an artist: Once for my collage work which is made primarily from bark and nature items and another show for the small robots and icons that I make out of recycled items such as broken computer innards.
Example of art recycled from computers and other electronics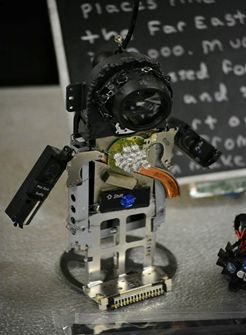 Art made from recycled computers displayed at Barberton Gallery of Fine Arts, Barberton, Ohio during the Steampunk event in fall 2014. Photo by Peggy Honeydew
But what a lot of people don't know is that I began making collages for the very first time about twenty years ago. I was struggling with a writing project and I got up in the middle of the night and began cutting up paper. It was a bold act for me since I had never taken any art classes in school, nor do I remember excelling in art at all as a child. Six months later, quite by surprise I won an Honorable mention in the National Collage Society's Postcard show which was featured at the Stocker Art Gallery at Lorain Community College . A few months after that I had a show at Fuel Gallery in Cuyahoga Falls, Ohio where I displayed many of my collages. I made a piece during that time period that I put away in a drawer. I took it out about a year ago and posted it online in a journal called PaperBlog and a Pushcart nominated poet, Michelle Realle asked if she could put it on the cover of her book "If All They Had Were Their Bodies" through Burning River Press. (see Kathleen's Writing and Art link below for a look at this piece). Another piece I made was fashioned from an old x-ray of my ex-husband's broken leg and ended up in a literary medical journal called Blood and Thunder through Oklahoma State University. So, looking back, I believe I made the transition to art from writing in an organic move---no pun intended, because I love putting pieces together that would seem incongruent otherwise. Pieces of flotsam and jetsam I find on the street, computer parts, tree branches. I see writing as an act of arranging chaos into clarity and perhaps this same ability follows me in my artistic vision, as everything I see has possibility in nature and transformation. My poetry book "I See Things are Falling" which you can see at this link http://www.amazon.com/I-See-Things-are-Falling/dp/1500705659 also reflects my interest in nature, deterioration, and the rejuvenation of things and people. As a matter of fact, the art on the cover of the book is from a series of photograms I did in 1999. I think this is why I rethink items I find. I am currently trying to take my artistic leanings and restructure a long piece of writing Art is my relaxation. Writing is my avocation. The two go hand in hand.


ICM : What are some of your techniques for making Visual Art?
KG : Since I am not trained in any art methods, a lot of what I create is by accident and experimentation. Whatever I find that intrigues me can become art. For a long time, I would not allow anyone to see my work space, and God forbid if they came over to watch me create. I overcame this fear and gained great confidence during the 100,000 poets for change weekend in 2013, when I was invited by performance artist Brandon Stroud to do something very unique: We went camping over a long weekend at Punderson State Park and we were asked to make our art from found objects and rudimentary supplies that we brought along with us. On the first night, I got up very late and took some sticks that I found to make a kind of small fairy bridge.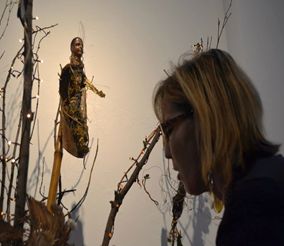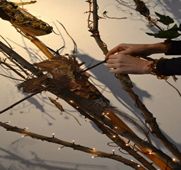 Working on an installation at Lakeland Community College Art Gallery for the Forest of Illusion in Fall 2013 during 100,000 Poets for Change. Photo by Peggy Honeydew.
I hid in the restroom at four in the morning and worked under the hand dryer where there was light. I did not believe in myself as an artist. It was there, with the help of photographer Peggy Honeydew that I found myself. I started to create next to the fire and she caught my eye and I knew that there was an artistic transformation occurring for both of us. She took a picture of my dirty hands as they created and many others afterwards. I cherish all of those pictures. Work from that show appeared in the gallery at Lakeland Community College.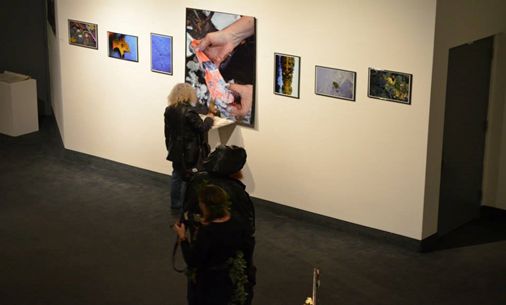 Picture of my hands creating art out of nature near the fire at Punderson State Park. (photo by Peggy Honeydew)

IC : Are there any specific materials you tend to use?
KG : One of the materials that I am finding very fun to work with right now is bark from the nature elements and computer parts from recyclables. I have a commission to make a Kokopelli man out of bark. I found myself putting a small electronic part in his head piece which made me chuckle a little. The commission has been a challenge as I have never made anything by request, but I like what I am making. I guess my medium is paper, trees and recycled computers. I even use natural pigments instead of paint whenever I can. What I find very ironic is that since I am a writer (writing and teaching is my main vocation), I love that my materials are symbolic of writing: paper comes from trees and computers are for written communication.
continued . . . .

ICM : Are you now or planning to exhibit your works? If so, where and when?
KG : I am very active in Barberton Gallery of Fine Arts, not only on an artistic level, but on an organizational level. I try to be there to help with the different events as much as I can---and even there I enjoy an artistic experience---recently we had a steampunk show and I made my own hat out of a yoga mat and old goggles I found from a garage sale. We like to dress up there and I enjoy making my own outfits.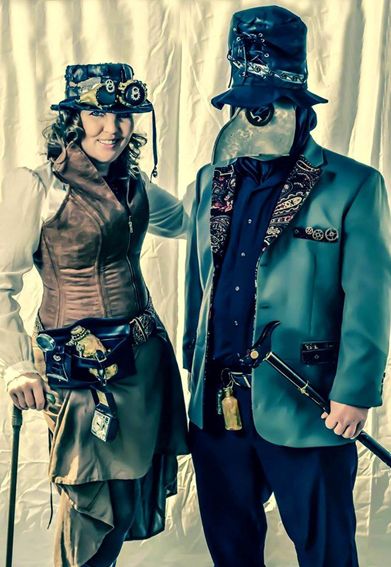 Dressing steampunk at the Barberton Gallery of Fine Arts Steampunk Event with photographer and good friend Jonathan Laslo.
I hope to display some of my work and writings at the Love Festival at Musica this February in Highland Square, Akron, Ohio, but over the holiday break I want to work on a poetry book about growing up in the snowbelt near Lake Erie which I hope to publish in the near future.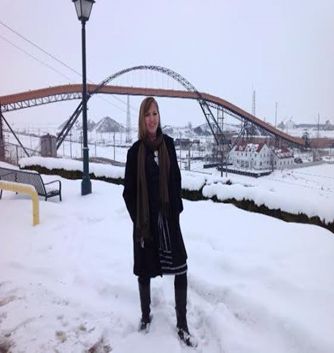 Exploring my hometown Ashtabula for an upcoming poetry book. Winter 2013 on Lake Erie. Photo taken by Southeast Asia poet Yuytusu Sharma on a trip I was hosting for him to visit the International Poet's Hall in Erie, Pa.

ICM : Could you please discuss how you manage your teaching, writing and creative art activities? Are they interrelated in any way?
KG : A year ago, I would not say that my teaching, writing, and creative art was related at all. But, my recent foray into more creative art projects is beginning to influence all of my writing projects, be they editing or writing. I am currently an editor of a poetry anthology entitled Eternal Snow by the prominent Southeast Asian poet, Yuyutsu Sharma, and it has been fun to read all of the different authors' works and find a way to make sense out of all the unique voices. Yuyutsu was instrumental in helping me see the significance of the nature in my hometown and how it guides my art and writing. I just love exploring nature and hiking and dreaming up new art and writings:
And, I do manage to keep up with publishing. I will have five poems in the Southeast Asia journal Pratik soon, and one of my most recent publications was in Clade Song. It is a poem about working in a factory as a young woman, and watching the other factory workers taking home "useable items" from the scrap. I once made coffins and Porsche bodies in the very same factory as a teenager, so no wonder the drive to recycle lives on in me.
http://www.cladesong.com/cladesong4.html
Two other non-fiction pieces I wrote that won Honorable mention in separate Writer's Digest awards deal with nature. As far as how it fits in with academics, I will be teaching a Classic and Contemporary literature class this upcoming semester at the University of Akron/Wayne College, and I constantly see the correlation between writing and art and history and cultural events. This last semester I worked at Ohio State ATI and I was privileged to teach an English class with an environment theme which fit right up my alley with my interest in preservation and sustainability and recycling items for art. I see everything as inter-related and so I find that if I go with the flow, it all comes together. Let's just say that I am always on the lookout in life and nature for new writing and art ideas.
Looking for art inspiration at Punderson State Park Beach. There is a snake carcass in that bag. Photo by Peggy Honeydew.

ICM : Finally, please feel free to include any links, websites and images that may give us a fuller understanding of the breadth of your work.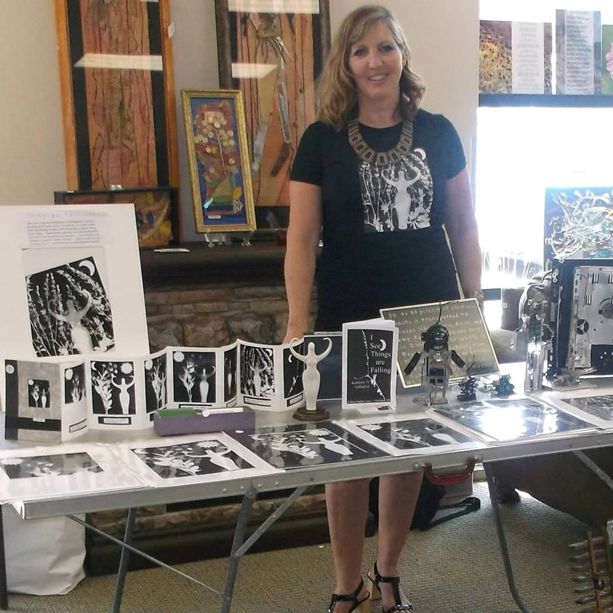 Landscape with Wing
by
German Painter Anselm Kiefer
at the
Virginia Museum of Fine Arts, Richmond, Virginia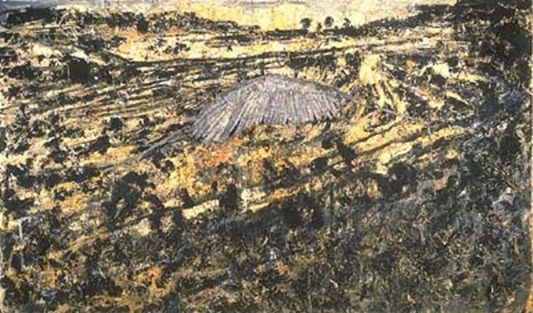 'You can not simply paint a landscape once tanks have driven through it.' - Anselm Kiefer
In the year, 1998, while attending PhD. classes at Virginia Commonwealth University in Richmond, Virginia, I was attending a class in the charge of Dr. Howard Risatti in Contemporary Art. One of our assignments was to analyze a work of art from a local museum. At that time, the VMFA, reported on a brass plaque that their analysis of the above mentioned artwork was related to a myth about a time traveler. In my paper, for Dr. Risatti's class my interpretation of this analysis counteracted and disagreed with the stated scenerio. I purported that the artist, Kiefer, worked diligently to use soil, mud, straw and other bits of ground transported from his war torn German soil and meticulously and diligently included these materials in his paintings. This clearly represents his connection to his homeland despite its afflictions. In addition, I further disagreed with the time traveler notion the VMFA set forth. The large wing suspended within Kiefer's large canvas was created using the metal lead. It is and was my opinion in the aforementioned paper and in my current analysis that Kiefer chose the use of the metal lead, the heaviest non-radioactive metal on Earth, in the visual shape of a wing suspended by rope before his painting as a representation of his inability to fully escape his homeland of Germany. Instead, the artist brought his home soil literally to America but also imbedded those materials on canvas with paint and added this lead wing to represent no matter his travels, he is and will always be inextricably bound to his war torn homeland. He certainly could not escape that landscape with the heaviest of metal wings no matter how hard he might try. Instead, he created a painting/assemblage that places that inability to escape his roots on full, glorious display in Richmond, Virginia at the Virginia Museum of Fine Arts.
Dr. Howard Risatti of the VCU Art History Faculty was one of the most compelling and challenging professors I ever faced. However, upon reading my analysis of Landscape with Wing by Anselm Kiefer, my professor responded with the comment, 'a new plague should be placed on the wall of the museum based on your analysis.'
Ironnically, I discovered today, November 3, 2014, that the Virginia Museum of Fine Arts is currently reporting on their online description of this work, the following information:
'Kiefer's paintings use historical and mythological themes to explore his country's past, aligning him with the Neo-Expressionists—a group of artists, particularly some from Germany and Italy, active during the 1980s, whose works references culture and history. Kiefer's immense desolate landscapes, made from such unorthodox materials as tar and straw, allude to centuries of conflict and devastation on German soil. The large object dominating this canvas refers to the Icelandic myth of Wayland, a crippled and imprisoned metalsmith who escaped on wings he made himself. Although this version is made of lead, such wings often symbolize redemption in Kiefer's art.'
In conclusion, history can be subjective as well as objective. Additionally, it is necessary, always to know the context in which an artwork is created. Yet, it took the VMFA over ten plus years to begin to follow my attempted analysis of Kiefer's Landscape with Wing, simply a local, city student at Virginia Commonwealth University.
Musical Guest Interview
John Stinson, Singer and Songwriter
of
Johnny 3 and the Barstool Prophets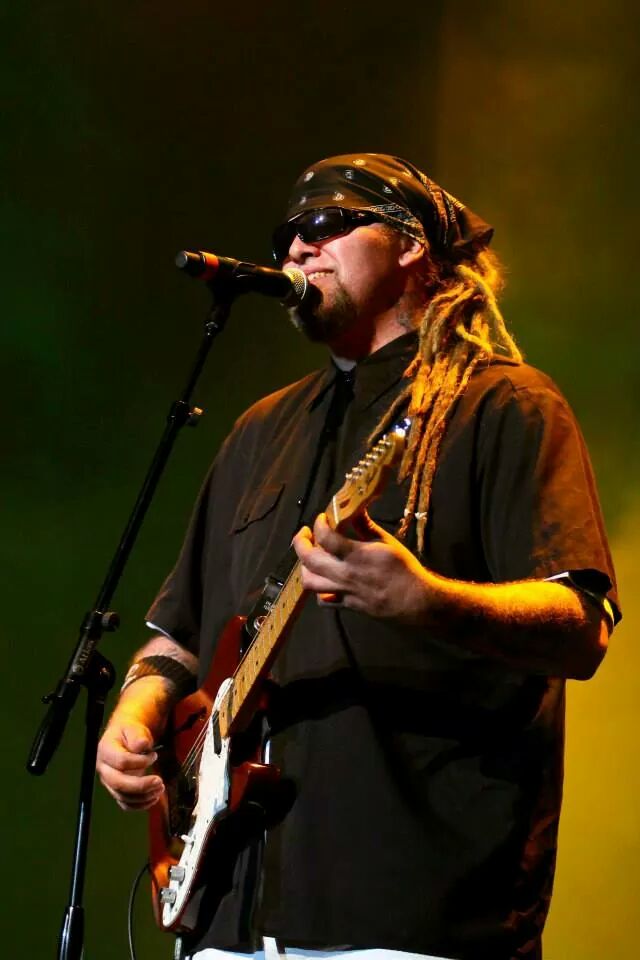 ICM: What type or genre of music do you play?
JS: Honestly, I've played in so many projects that embrace so many extremely different styles that it makes this a hard question, or at least one deserving more than a one word response. Short answer, nowadays, everything I seem to write is Reggae/Rock with heavy Hip Hop overtones, but that could change tomorrow afternoon.
ICM: Do you primarily write original music?
JS: Yeah, I mean that's the goal. To create art and present it to an audience. And writing songs is the actual struggle, the process, you know which is what makes art what it is. And, I have such a connection with the songs I write. They are deeply personal. So, even though they might have uncomfortable themes, I'm very comfortable playing them.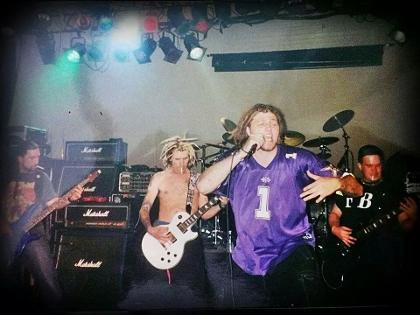 ICM: Are there favorite songs that your audience prefers?
JS: Yeah, there are some that stick out because they are emotionally charged or emotionally compatible, rather, to however I'm feeling at the time. Which is, quite honestly: kinda dark nowadays. Just a lot of heartache and loss and regret which leads to self-deprication. So the songs that reflect those themes right now are the ones I enjoy playing. Ha, ha, ha - it's like pushing a bruise.
'Does Your Momma Know?' is on that list. It's dark, about calling out someone who's done you wrong or been untrue and has been caught. Kind of that base anger response of 'You kiss your mother with that mouth?', type of deal. It's cathartic in the sense that I can say things and get them off my chest without actually having to face this person that caused all that pain and turmoil.
The other end of the spectrum, is a song like 'Vince the Prince', which was probably the first song I wrote that garnered any attention, For instance, just this week two people recited that song word for word to me. Its obviously stuck with them. And, the song deals with the universal theme of loss and regret at having lost someone or something.
Honestly, I had almost stopped playing that song during my sets because to me it felt a little dated but people kept asking for it and sharing what is a very real connection with those words and that melody. And, that's a prime example too, of like...Ok, I'll put it like this: it's a rap song so the verses are heavily worded and there's a lot of metaphor. It's not dumbed down in any way-so, for people to know every word, every line...that's an investment, of time, if nothing else, to learn all those words. So, when I play it now it not only helps me to purge my own feelings of loss, but to connect deeply with my audience. And, I love that feeling. I mean it kind of sums up why we do what we do with music or art, in general.
ICM: Do you also play covers? If so, which ones?
JS: We do play covers. More, as of late, than I have my entire career. Which is basically a manifestation of survival, nowadays, in the entertainment industry. I mean lets be honest, Album sales are at an all time low. Every platinum selling recording artist is having to play more shows to keep food on their plate. Down here, where I'm at (with the bottom feeders), we have to play in bars all night to make a living. When you have to entertain a crowd of inebriated people for four and a half to five hours a night, then you will end up playing covers.
But, I've always been of the mind that, I can't perform a piece of music I have no emotional investment in. So, we pick covers that are off the beaten path. We take a song like 'Opiate,' by Tool, and we deconstruct it from a heavy ass progressive-metal anthem down to its base elements-the lyrics and the cadence and melody. And perform it as a sort of dark Blue-Grass tune. I know it sounds weird but it works and makes the song our own.
Also, we play songs by our contemporaries like REHAB, Citizen Cope and Sublime. You know? The shit that I listen to that means a lot to me. It gives us a chance to have fun with people. The ones who scream to hear Top 40. We will start playing a popular song, say 'The Joker'...Steve Miller, and play a verse and chorus and then morph into...'My Minds Playing Tricks On Me' by the Ghetto Boys. It always cracks me up to see their faces when we go from a popular bar song to hardcore gangster rap and I mean they're already dancing so they don't stop, they just kind of...roll with it.
So, covers aren't evil like I thought when I was younger and don't represent a lack of originality. If I have to play a couple covers to get a crowds attention, that gives me the ability to draw them in with something familiar and then BOOM...hit 'em with the originals. It works.
continued . . . .

continued . . . .
ICM: What is your musical background?
JS : I was very fortunate to be raised in a very talented family where everyone played multiple instruments and sang harmony from an early age. I was just back home this past weekend and stayed up late with all my aunts, uncles, cousins and my mother and I played and sang all night between gulps of beer and sips of bourbon. We all sang in church and piano was an extension of that. They had me reading and writing piano sheet music at a young age. Then, in school, I played the Alto Saxophone but eventually converted to Baritone Saxophone. I play Tenor, now. Guitar, I picked up on my own and taught myself but, honestly, once you have a grasp on something like piano, it translates to everything else. It makes it so much easier to pick up a new instrument and grasp it.
In any case, music has just been a natural part of my life since I was born. Then, when I got older and actually began to aspire to be a musician, I was fortunate enough to fall into relationships with some of my idols as a teenager. The knowledge they let me soak up has no measure.
See, when I left college and moved to D.C., I had no idea what to do with my life. I worked in the U.S. Patent Office and ended up living with a band, well, crashing on their floor. Of my God, that was such a great time. I mean, we lived in utter squalor but we were so happy to be free, you know. I ended up carrying their equipment to shows and then they'd let me do guest verses. I'd come out and rap for awhile and get the crowd riled up so eventually I was treated like part of the band. Buddakiss, then from there I met Mike Bossier (Oblivion) and then we did the whole Spine thing and got signed. All the while, I was picking the brains of these outstanding guitar players, secretly teaching myself.
But, when I met Harley Davidson (of Scream, Dave Grohl's band before Nirvana), it all came together for me while I was in God is Dead with Harley, everyday was get up, play music, drink, play music, eat, play music. He and Bruce Krumbholtz taught me so much and allowed me to introduce songs I wrote and, well, gave me the confidence I needed to strike out on my own. I've been so lucky. And, even now, I'm still learning, playing with cats like Skeeter Thompson, Kent Stax, Teddy Feldman and Doc Knight. They teach me constantly.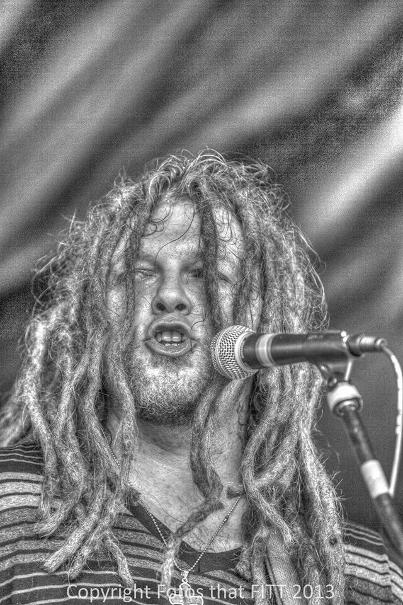 ICM: Please describe a meaningful experience you have had in the music industry.
JS: I mean, the best thing has been the relationships with cats that I idolized coming up. Me and my friends were too young in the 80s to actually be in D.C. for the hardcore movement but we listened to all these great discord bands: Fugazi, Minor Threat, Scream, Bad Brains. They were just the face of my teenage rebellion. And then, to get to not only meet them, but to get to play and commune with them like equals.
That beats ever the whole being signed, recording in huge studios. You know, the videos and playing on TV and doing National Tours. That was all nice but the fact that I have some of my heroes on speed dial is still just awesome to me.
ICM: What advice would you give to aspiring musicians?
JS : Man, Love what you do. Because if you don't really love it, it will get old quick. And don't get it twisted, its work, man. Just like anything else, if you don't put in the time, invest yourself completely in it, then don't expect to get much back. The toughest job in the world is trying to get 3-5 musicians to agree or be on the same page about anything...lol.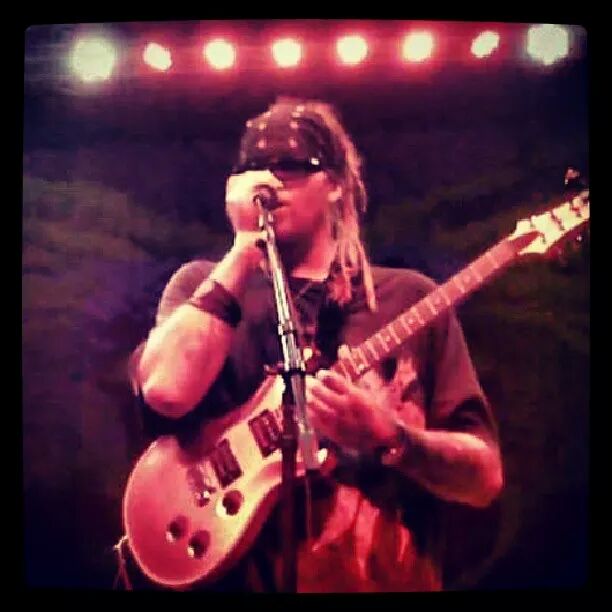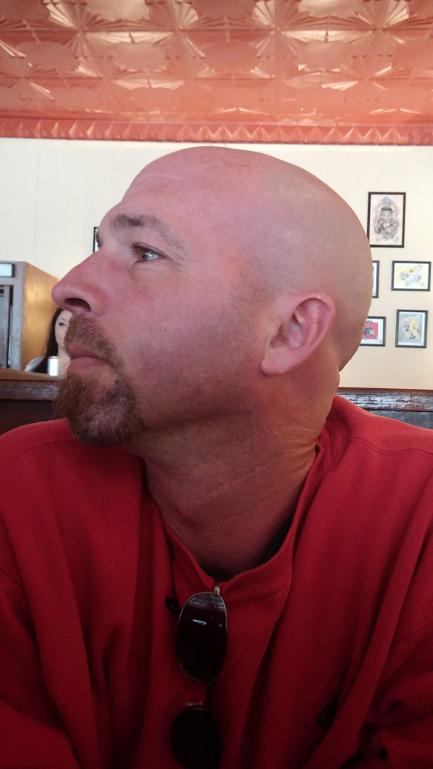 Garth Foster is a founding member as of February 2014 of The Urban Individualists Gallery in Richmond, Virginia. HIs work will be on display indefinitely at Mollys Irish Pub and Restaurant in Warrenton, Virginia.
Garth Foster is a Land Surveyor, a Father and a photographer. He began work on the fire department at age 15 then continued with the rescue squad. He grew up and resides in Fauquier County. His photogrpahy is inspired by his son and nature scenes around Virginia.
Inner Child Magazine: Your primary means of artistic expression seems to be photography. What are some of your major influences in this area?
Some of my major photographic influences include things that are unforeseen, those things that many pass by everyday, unnoticed. I work as a Land Surveyor most of the time and am thankful to come in contact with many things that most people do not see typically.
ICM: What subjects are your favorite to photograph?
Flowers, animals and different aspects of the sky.
ICM: Do you have advice you can offer for beginning photographers?
Let the camera catch what your eye sees and do not photoshop.
ICM: What types of photographic equipment do you prefer to use?
I generally use my cell phone camera with attachments but I prefer to use a Canon.
ICM: Are there any artists or photographers that have influenced your work or that you admire?
I have great admiration for all of the National Geographic photographers.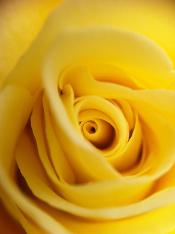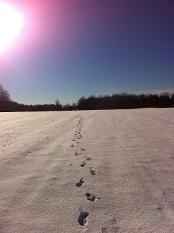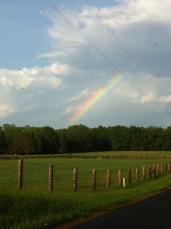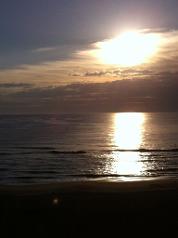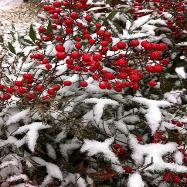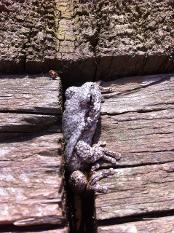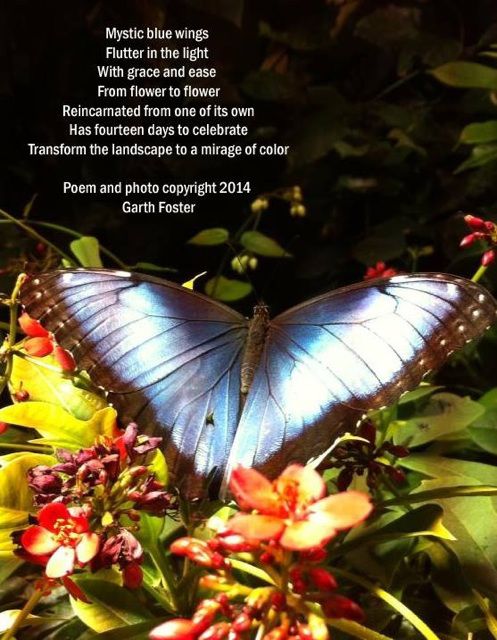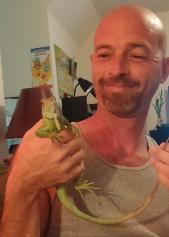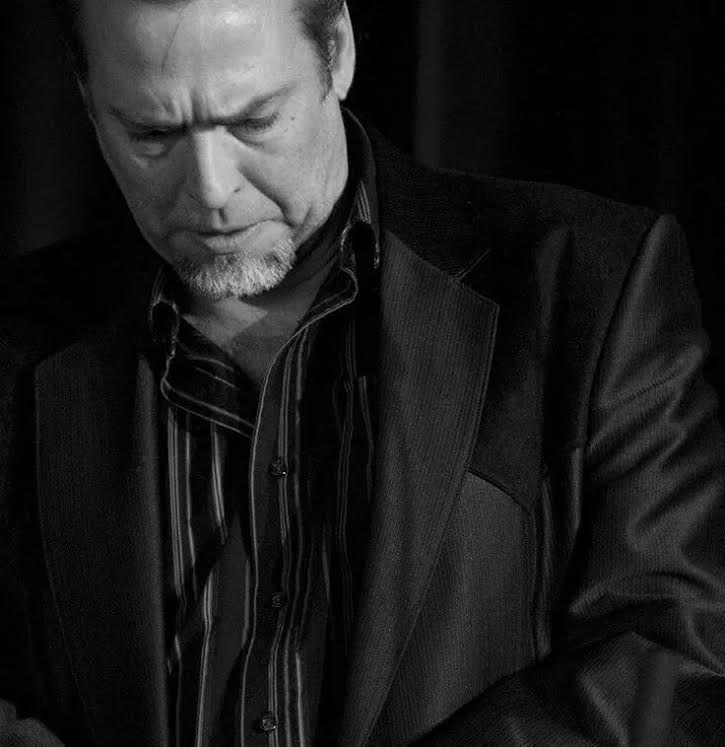 Justin Booth was born in Alton, Illinois in 1967. He is a veteran of the U.S. Army, has worked as a bricklayer, car salesman, tree trimmer, ridden with a motocycle gang and did time in prison before succumbing to heroin addiction. His addiction eventually left him homeless, living on the streets for more than five years. Creative writing was his saving grace. Since the publication of his first chapbook, 'Hookers, Ex-Wives and Other Lovers' in 2012, he has found both a job and home. He has been published in the United States and abroad. He lives, works and writes in Little Rock, Arkansas. His books are available at amazon.com.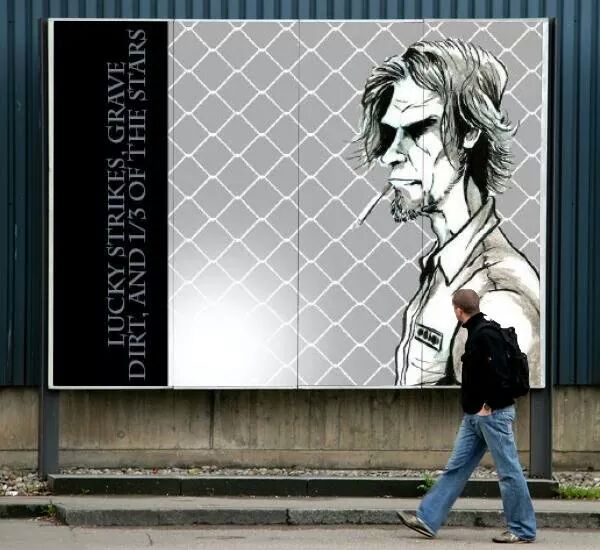 Review of Justin Booth's Book: Trailer Park Troubadour
By Siddartha Beth Pierce, July 2014
To begin with the author's own pen: he writes with a 'staccato hand' from his poem, The Tatoo. He, himself, writes poetry with much fervor and cadence. The rhythm of his work is evidenced in 90 Days Away, wherein, the author relates: 'I like girlfriends on xanax, river market poets, and late night Denny's grand slams.'
His poetry plays like the best of tunes upon the mind's eye and tips the tongue to laugh out loud, the lips to smile wryly as well as the eyes to tear from the empathy imbued in his writing. This is clearly expressed in the poem, Forbidden Fruit, where he explains: 'I loved her but she needed the pain'.
Justin's self-awareness is clearly exemplified in the poem Old Age is Carrion, with the line, 'Martyred Hep Cat.' It is so telling of the author's plight to live, love and prosper in a difficult society, yet, he is saved by the grace penned in many loving lines: 'passing away as sunset' (Nom Ominus Morior) and 'as he painted them out of pictures' ( from A Certain Kind).
He places people fading in and out of scenes of love, decay, dismay as seen in A Decent Poem. In the end and the beginning, the author has written an entire book of them: Exquisite, Decent Poems.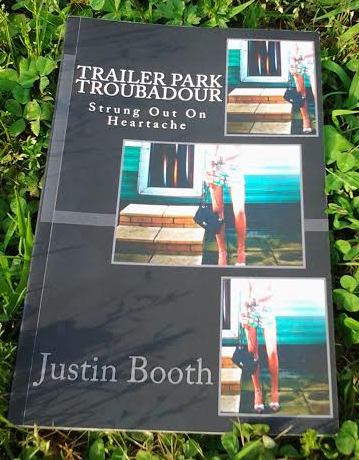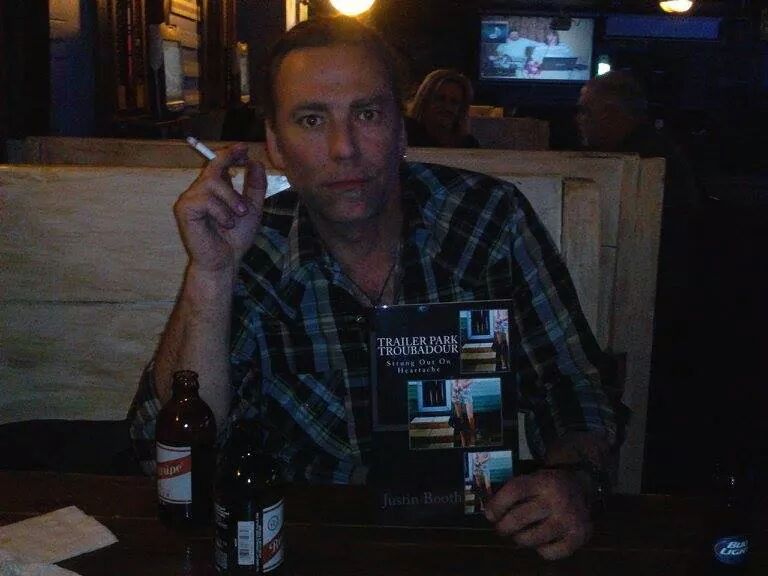 Interview with Visual Artist
Helene Ruiz
by Siddartha Beth Pierce


Helene Ruiz is the founding artist and Director of Art at The Urban Individualists Gallery located at the Artworks Building, 320 Hull Street, Richmond, Virginia.
You are an accomplished visual artist. Please explain when you decided to become an artist.
I never decided to become an artist, I believe I was just born that way. My parents told me I didn't speak until I was 5 yrs old, I drew and acted out what I wanted to say. I began to take my passion for art more seriously when I sustained serious spinal injuries and that was all I could do from my bed. Since that time, I have completed over 500 paintings.
Were you trained/educated in the arts? What is your background?
My father (an artist, musician and writer himself) was actually my mentor and my biggest inspiration as he always encouraged my creative side, but in school my creativity was seen by the teachers and I was lucky enough to be granted a summer workshop back in the early 70's (maybe even late 60's) at the Metropolitan Museum of Art. Dali actually strolled through a class on a Saturday and gave me a thumbs up on a sketch I did. I didn't know who he was until the teacher told me.
What are some of your most influential subjects? And, other artists?
Life is my subject. In all aspects. I admire the works of artists who have no fear to express themselves. I like work that makes me think and moves me.
For those now pursuing a career or with interest in the arts, what advice might you give to them?
I say, 'Do what you love and don't let anyone tell you otherwise. Be free and unafraid, after all, this is your chance at true freedom.'
Artworks by Helene Ruiz
Acrylic on Canvas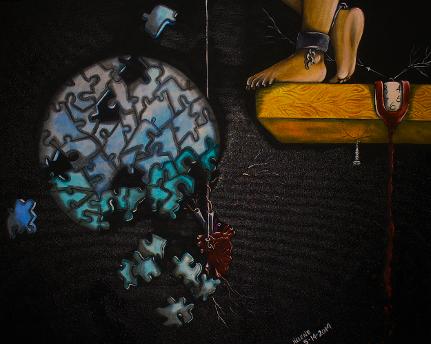 Close to the Edge
As she feels she is on the edge because she feels her world is falling apart, she is fishing for the pieces to the puzzle to find out why, in the process, she saves her heart from getting lost within the madness, and realizes, that is the piece she needed, may not look like the the pieces of the world, but is the main piece she needs to sustain in order to continue "puzzling" the pieces of life together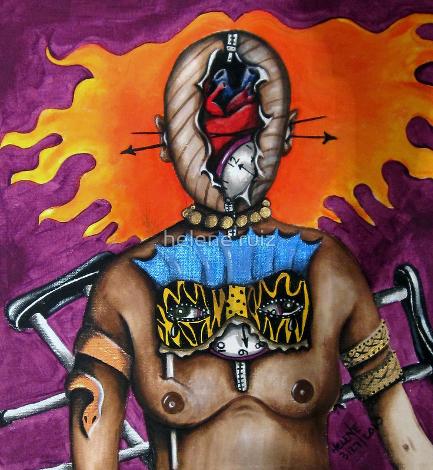 The UnZippering
(1st of a 2 part painting) I painted the front view in which she zipped down her disguise and her heart is hidden in her soul, behind time, knowing how limited time has become, and how much had been lost or wasted. She wears a mask over where her heart should be in order to hide it and protect it from all those who betrayed her in her lowest time of life, when she most needed support, encouragement, and hope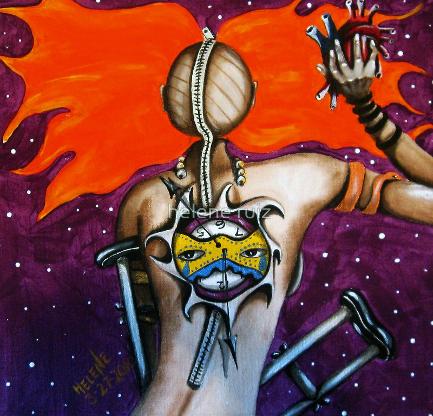 The Removal
(2nd painting of the 2 part series) The Removal, she has come to terms with conditions as they are, accepting her "aloneness" and her pain and new unexpected life changes. She removes her heart to hold up high without restriction nor concern of it being "seen" again, and with a pride of surviving and a plan to continue to survive. After all, how much more can they do to her heart now anyway?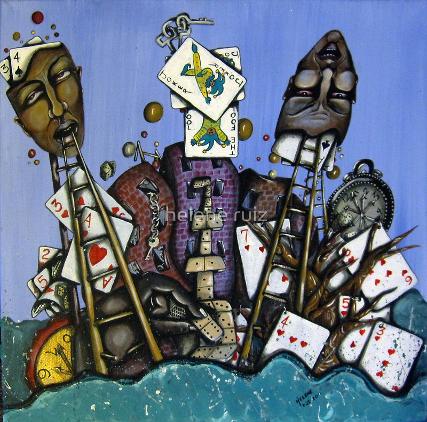 Capicu!
"Capicu" means there are no more moves left..game closed…so this is a "man's world" and in my old neighborhood in the Bronx the men would sit out play their dominoes and u would hear "capicu!" all night and day…this painting is about what this man's world has done to the environment…are there any more moves left to fix this?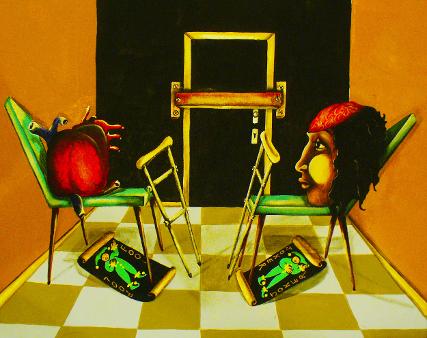 War
In life our heart and mind are at a constant battle. I locked them down in a room, until they agree on a decision together, they will remain there, crippling each other with their reasons why one knows better than the other. Which is it? Is it better to think with your heart or your mind?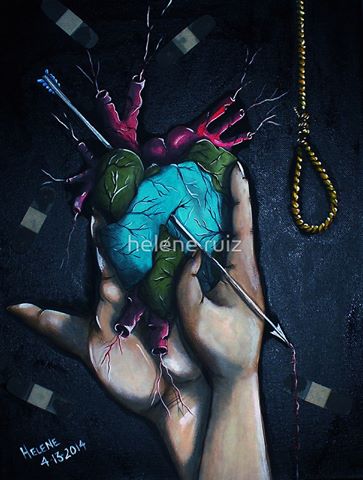 Scars
Acrylic, band-aids on canvas cr helene ruiz your world destroyed, hearts broken, all is shattered, everything you believed in was betrayed by those you trusted the most, no answers, no closures, no explanation, nothingness other than pure abandonment, a total disregard of you, the truest of betrayal, the worse form of abuse because you cannot see the scars…the scars remain and grow larger and larger and become more and more painful …there are just some things there just ain't a band aid in the world can fix or cover…
Review of Clifford Brook's first book
The Draw of Broken Eyes and Whirling Metaphysics
by
Siddartha Beth Pierce
May 2014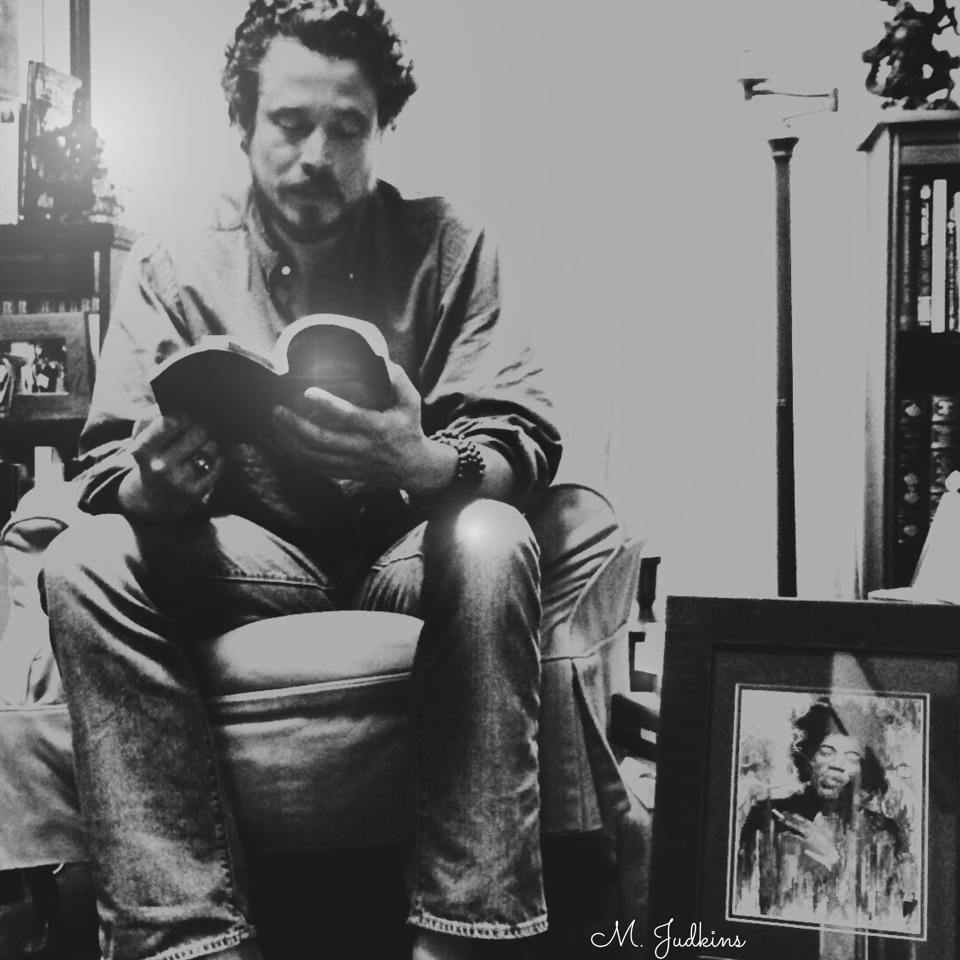 This collection of poetry blossoms forth as flowers, unfurling the precious poesies within. As expressed in Lavender, part one, 'Flowers open thinking', as does the poetry in The Draw of Broken Eyes and Whirling Metaphysics. There is a struggle examined to maintain loving relationships while lost in literature instead. A sensual craving: 'her spread out scent is in his nucleus' from Conversations with Daisy. Likewise, there is a sense of displacement, a longing for home perfectly delineated in the Southern cadence, charm, elegance along with musings about the beauty of nature.
'Birds break shells and throw life' from Rain exemplifies the author's trek into the unknown while he longs to return to safety and harmony. 'Ours will be a lifetime beside a warm hearth, hugged by hydrangeas, set right beneath a comforting dawn.' (A History, part four)
The poetry within this book flowers, playing its musical classicism from Mozart, Beethoven, Vivaldi to a jazzy, bluesish finish. 'Hills are blown naked' (Falling South), is the Soul of the author dressed bare.
His poetry purveys a sense of perpetual searching, a sadness from midnight hour into the insomniac heart of day, as unrest unfolds and a masterpiece is birthed anew.
Lavender and Rain from The Draw of Broken Eyes and Whirling Metaphysics :
Lavender
1)
Now
The sky is furious.
Air conditioners echo across the courtyard.
A shirtless old man
smokes black cigarettes.
I haven't planted anything.
My jade can't
find the right light.
Days tear out
free of incident.
It's practice.
It lacks a feline curve.
Lavender wafts from somewhere.
Maybe the Hindus
upstairs burn incense.
Flowers open,
thinking.
This is the garden of waiting.
In its center is a well
that tells me prayers, like wishes,
are nothing more
than throwing diamonds
into a void.
2)
Later
A heat storm has fingers
the length of Cadillac parades
that wrap beneath the belly of clouds.
Solitude is the co-host
to the question, will you ever depart?
Her lavender lotion
is on my clothes.
Restlessness,
yes.
I shift between rooms
wishing we were
lovers laying out
on lawn chairs,
bickering over
peach cobbler ice cream.

The unexamined life is not worth living. - Socrates
Good friends, good books and a sleepy conscience: this is the ideal life. - Mark Twain
To play a wrong note is insignificant; to play without passion is inexcusable. - Ludwig van Beethoven
Rain
Sunflowers snake upward
around the brittle remains
of an azalea. Birds break shells
& throw life.
…
Here
Lounge chairs for star gazing,
ashtrays,
match sticks
sparked for coffin nails.
No wind chimes.
Not a single piece of folk art.
Before the young men
of Dixie go in - pause – lungs & smoke.
Pregnant clouds ease toward
slate afternoon.
Rain in sheets
fills famished soil.
Cut grass runs downhill.
It's humid, sun is still out,
the devil's beating his wife.
…
Soon a woodpecker resumes
its drumming
while koi come up for lunch.
Morning glories
have gone rogue in purple,
pink & blue,
strangling
loose railings.
A special gift from Clifford Brooks, a sneak peek at one of his verses from his upcoming new release Athena Departs.
In the News
Sitting on a bench, reading:
As violence falls in Iraq,
cemetery workers are earning less.
America's need for Middle East media
has replaced articles about diet recipes,
rescued cats, and toast burns
that resemble Jesus.
I wonder which editor was smoking pot
when he decided to run with
cemetery workers in Iraq?
Maybe it's because I am weary of war.
War makes the air heavier,
and those not fighting sound dumb.
Don't dramatically smoke
a cigarette,
and roar over this
to disinterested friends.
They're soul-sick
of this futility, too.
Quietly enjoy the humor in irony.
Those cemetery workers
are jewels in a land of ash.
Laughter is more valuable.
Special Announcement
Clifford Brooks will be the featured poet at The Urban Individualists Gallery on May 17th, 2014 from 1 to 3 p.m. at the Artworks Building, 320 Hull Street, Richmond, Virginia. In the All Media Gallery, Upstairs.
Please Come Partake in the Magic.
Author Bio
Clifford Brooks is a poet, freelance writer, and teacher living in Georgia. His first book of poetry, The Draw of Broken Eyes and Whirling Metaphsics, was released in August 2012 by John Gosslee Press. Since then, the book has been nominated for the Pulitzer Prize, Georgia Author of the Year and three Puchcart awards. Currently, Clifford is haunting every corner of the American South to bring his next book of verse, Athena Departs, into full bloom.
Renee Stout
Men, Women and Children –
Humanity and Gender Depictions
by
Siddartha Beth Pierce
'What a country needs to do is be fair to all citizens - whether people are of a different ethnicity or gender.' - Chineua Achebe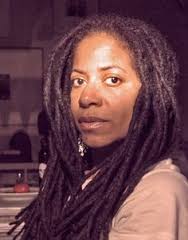 Renee Stout is a prolific African-American Assemblage Artist. Her works have been collected worldwide, she has worked as an Artist-in-Residence at numerous Universities and the Smithsonian Institution of Washington, DC has published a book representing her work.
After having traveled to Barrister's Gallery in New Orleans, Louisiana in April 2004 to view a small works exhibition by Renee Stout entitled 'Fatima's Dreams', I discovered that one of the most profound explorations apparent to me in her work is the various depictions of people: male, female, children and the subsequent differences between them. The identity and personality of these references and characters displayed carried a curious repetitious theme. Women were fully realized and expressively portrayed in an in-depth analysis of character. While men, in contrast, were depicted in many of her works, as aloof and were given a place of austere distance. Either not represented at all or when so only via a photograph as if to indicate a distant memory or a stand-in for the reality of a male figure. Children, another aspect of character in the work of Renee Stout, like the female identities are much more apparent and definitively realized: present, fully acknowledged and explored. Obviously, the difference between Stout's treatment of female and child imagery and the identity from the male representatives is both formally and conceptually a major characteristic of her work both past and recent.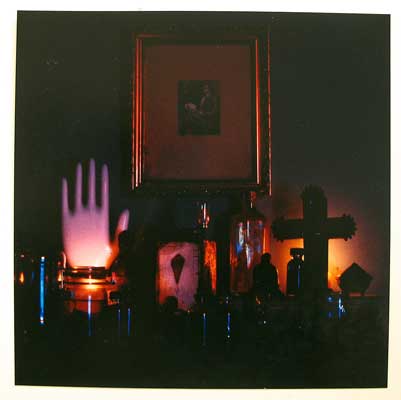 After surveying the works of Renee Stout in the exhibition, it became immediately apparent that the artist often depicted female and child identities in a deeply, multifaceted exploration while the male identities were often only inferences, subtleties or altogether absent. This notion was apparent in not just a few works but in each of the 14 works represented, some of which were her most recent considerations at the time. Additionally, Ms. Stout, in an interview agreed that my analysis of her works was exactly as she had intended them to be interpreted. Renee Stout recalled many strong female personalities in her life that had led her to explorations in the artwork in 'Fatima's Dreams'. They were conglomerates of many female characters but mostly herself: a self-exploration. However, the absent and distant treatment of the male was an altogether different investigation. The artist explained, 'Relationships were never discussed. Women were not realistic about relationships. Our society tends to assign gender roles...in some ways women are taught to go get married. Those ideas about relationships and marriage are not realistic. There is no fantasy. I can rely on myself.' In further discussion, Renee admitted that her father's intensely chauvinistic attitude was a major source of her rebellion and her subsequent immersion into a career in the visual arts.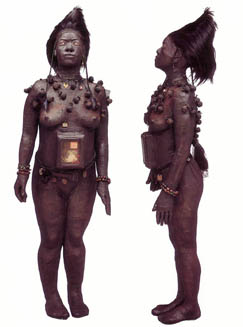 Ms. Stout's relationships with men in her familial and personal life and her experiences and ideas about men had clearly emerged in her work. At this point in time, primarily the literature published about Renee Stout's works had been concerned with the influence of African Art particularly Kongo Nkisi Nkondi figures in her art as seen in the text 'Astonishment and Power, spearheaded by the 1993 Smithsonian Institute. Other, publications, have explored religious and spiritual exploration in her field of expertise. However, most recently, Renee Stout's work has transformed, transcended and is much more influenced by Haitain, Jamaicain, Cuban and South American religions such as Voodoo and Santeria wherein the role of gender specifications is quite apparent and can be seen as an imminently profound and developing influence in her pieces at the New Orleans exhibition. This particular concentration, likewise, is not solely an African-American concern, it is one that crosses gender and race lines to contemplate Universal concerns both familial and societal that affect every culture.
In the text 'Astonishment and Power', an in-depth examination of the notion of Renee Stout as a member of the Diaspora that has proceeded in the vision of Alain Locke to explore in great detail the roots from which her family came. This text was released after her 1993 Solo Exhibition at the Smithsonian carrying the same title as the book.
continued . . . .

continued . . .

In addition, a great deal of attention is paid to the link between her work and specific cultures in Africa such as that of the Kongo. Her work is compared in great detail to that which comes from Africa and is seen as a crossover both between continents and between the physical and spiritual realms. Additionally, in 'Dear Robert, I'll See You at the Crossroads' the focus continues to explore the African influence on Stout's work as well as discussing some of the more recent trends of analyzing and utilizing African-American folklore and Voodoo religious and spiritual considerations. Stout explores written formulas, music, conjuration, root work and folklore in the context of a fictional narrative from which she pulls characters from her own personal memory including herself to look back at Africa's past and to gain empowerment over her current state of existence.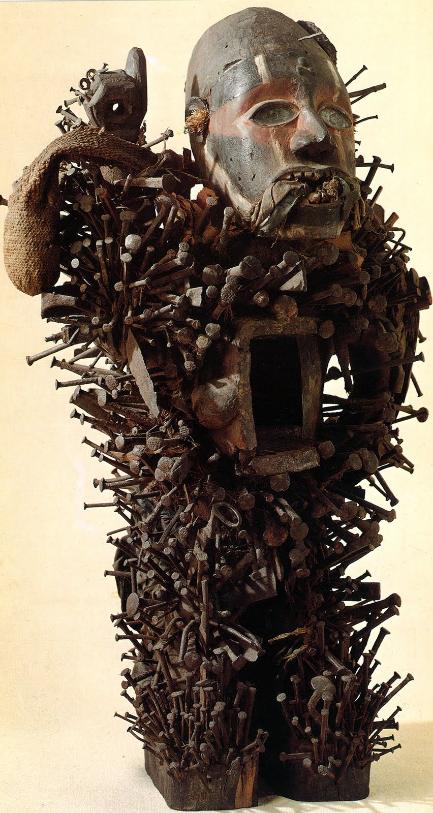 'Readers, Advisors and Storefront Churches' is a mid-career look at the works of Renee Stout with an emphasis on cultural, spiritual and political dimensions. It becomes clear, herein, that Stout looks to New World descendants for direction and speaks out against various political issues surrounding her, including violence and homelessness. There is some discussion of her home life wherein it is reveled that her parents ultimately divorced after many unhappy years together. However, currently, little has been written and nothing specifically regarding the various ways in which Ms. Stout represents male, female and child figures in her work. More specifically, how these representations are direct manifestations of particular people in her life including role models and herself. This is the exploration her work had taken at Barrister's Gallery in New Orleans in the 2004 exhibition 'Fatima's Dreams'. What is required is an examination specifically of the various associated identities of the dichotomy within the subject of gender and age in this work of Renee Stout.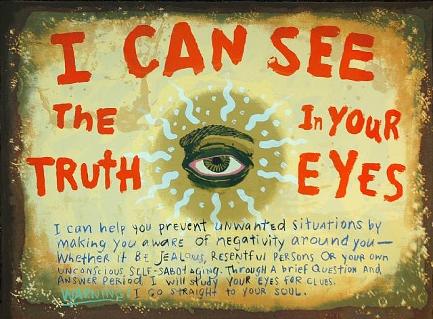 In 'Astonishment and Power', published in 1993 a foreshadow emerges, 'Narratives are invented from fragments of other lines, coalesced like the mnemonic crust of a memory jar and mythic personalities emerge, leaving traces, in Stout's imaginative, mystic works.' (p. 107) Indeed, what are Renee Stout's memories, who are the personalities in her life that influence her work and how are these various factions represented both formally and conceptually in the artwork of Renee Stout?
I was thankful to conduct three in-depth interviews with the artist which included one two day interview in April 2004 in New Orleans, Louisiana in various locations including Barrister's Gallery and spots throughout the French Quarter including some of the artist's favorite voodoo shops. Additionally, I conducted a follow up phone interview with the artist on May 12, 2004 as well as one on September 9, 2004 from her studio in Washington, DC.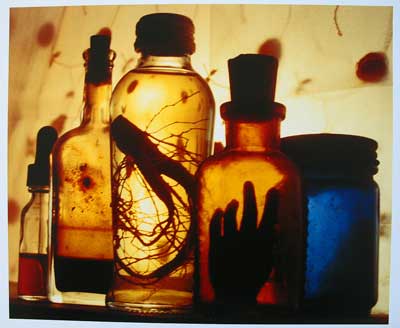 Bibliography –
1. Berns, Marla C. 'Dear Robert, I'll See You at the Crossroads.' Santa Barbara, California University Art Museum, University of California, Santa Barbara, 1995
2. Owen-Workman, Michelle, 'Readers Advisors and Storefront Churches.' The University of Missouri-Kansas City Belger Arts Center, Seattle, Washington, 2002
3. MacGaffey, Wyatt, 'Astonishment and Power: Kongo Minkisi and the Art of Renee Stout', Smithsonian Institute. Washington, DC, 1993.