I want my Poetry too . . .
I want My Poetry to Volume iii 2016
Inner Child Press is poised once again to make history. We at Inner Child Press have always been a huge supporter of Poetry in all forms. Since January of 2014 we have produced on a monthly basis "The Year of the Poet". Here we have featured countless poets from all over the world including our own core group aptly named The Poetry Posse" . . see : www.innerchildpress.com/the-year-of-the-poet
We have always been big proponents and supporters of people speaking their consciousness by way of poetry. We supported poetry avidly in our older radio Days as well as with our magazine, Inner Child Magazine (www.innerchildmagazine.com)
Back in 2011, i and many other poets had the honor of being on Jill Delbridge's "The Artist Lounge Show" along with guest Activist and Poet Monte Smith. During the show Monte challenged we poets to write a poem about what our intentions were for our poetry . In other words, what did you want your poetry to do. This was a great idea that many of us perhaps never gave thought to, nor developed a poetic mission. This prompt / challenge became a thread on the FaceBook group "The Artist Lounge" and thus became the makings of one of our very significant anthologies amongst the many. On March 27th, 2012, the effort became the first of two published volumes where we poets expressed our poetic intent. The second volume was published October 1st of that same year.
During this time in between, Gail Weston Shazor who has always been one of our staunchest supporters persisted in the encouragement to continue the process. We did attempt on a few occasions, but were met with a certain indifference within the poetry community., because the novelty of it all eroded. Well, here it is ! We have concluded that it is significant for us to declare our intent to the world about our purpose of poetry. Thank you Gail for your fortitude and undying belief that we poets have something worthwhile to say.
Here we are again in 2016. We are witnessing so many aspects in our world that speaks a need for the poetic voice to become the commentary of humanity. There is much that can be said. We at Inner Child Press invite you, the poet to participate and give your words to the world. This effort will commence on August 15th and will conclude on September the 30th. We are seeking to publish this 3rd offering on December 1st, 2016 in time for the holidays and New Year.
Project Manager
Gail Weston Shazor
Please visit our Web Page for Submission Guidelines
www.innerchildpress.com/i-want-my-poetry-to-volume-3.php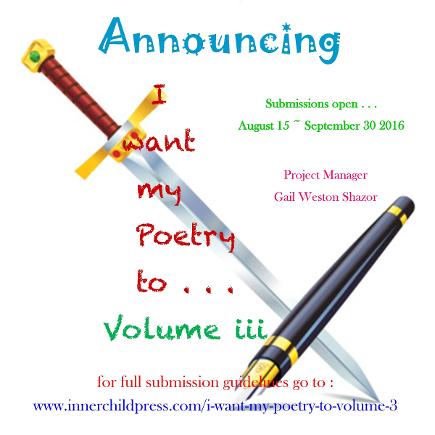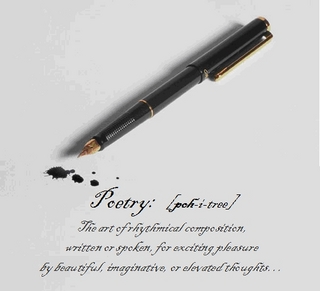 Submission Guidelines
Submissions Period
August 15, 2016 ~ September 30, 2016
Projected Publish Date : December 1, 2016
All submitted poems must begin with "I want my poetry to"
(all others will be rejected)
Please put your name at the BOTTOM of Poem
You may include 1 of the following
(Web Link, FaceBook Page or Email Address)
Please Underline Title
All submissions must be an attachment.
(not in Email body)
Font : 12 pt Times Roman
Single Spaced
Left or Center Justified Alignments Only !
Any questions, please forward them to :
innerchildpressanthologies@gmail.com
Project Manager
Gail Weston Shazor